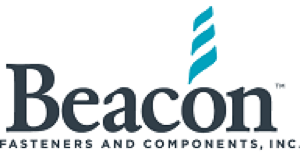 Beacon Fasteners and Components is thrilled to announce the launch of its new website! The redesigned website features a customer account dashboard, easy to navigate product catalog and shopping cart to request a quote. The updated content pages provide valuable information on product, inventory solutions and company culture.
"After months of hard work from the Beacon team and our partners at INxSQL, we are excited to debut our new site and showcase all its new features," commented Kameron Dorsey, National Sales Manager. "Our goal was to create a more user-friendly design across all devices so our customers could quickly access product and order information."
Beacon invites you to visit its new website at beaconfasteners.com and get setup with a personal login and password.
In addition, Beacon will continue to enhance its website over the next several months and will unveil live quoting and web ordering in phase two which will launch in early 2021.
Beacon helps its customers to enhance their operations by providing supply chain solutions that reduce lead times, improve inventory performance, and support quality requirements with their comprehensive validation process. Beacon is the leading supplier of high-performance screws focusing on Thread Forming, Thread Cutting, SEMS, High-Low Tapping, Metric screws and complementary sizes of Sheet Meal Tapping, and Specialty Cold Headed Fasteners.
Beacon Fasteners and Components is located at 198 Carpenter Avenue in Wheeling, Illinois. Tel: 1-800-669-2658 Email: websales@beaconfasteners.com Web: beaconfasteners.com
The Partner to World Class Fastener Distributors.